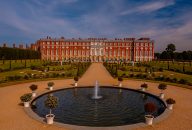 Get ticketed entrance to Hampton Court Palace and explore its various chambers where the marriages of Henry VIII rewrote history.
Pay a visit to the State Apartments of Henry VIII, discover the Great Chamber lined with Thomas Wolsey's tapestries, and learn about the battle for power at the Tudor Court.
Get to know what constituted Tudor cooking and what all counted as entertainment back in those times by exploring Henry VIII's Kitchens.