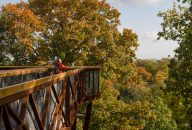 Gain priority access to the Kew Botanical Gardens in London and save time on waiting in queues for entry.
Take a break from the London crowds and wander through the gardens for some tranquility and fresh air.
The Kew Gardens feature a host of conservatories, art galleries, and restaurants, so you can choose to explore whatever you prefer best.