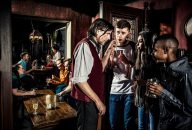 Gain priority access to the London Dungeon and each of its (19) shows and (2) rides.
Be prepared for the scare of your life with shows such as Sweeney Todd, The Torture Chamber, Guy Fawkes' Gunpowder Plot, Mitre Square, Whitechapel Labyrinth, and more.
Each show has its own scare meter; so you get to choose which ones you want to experience based on how scared you want to be!