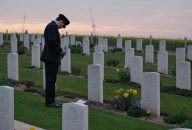 Travel from Paris to the Somme Battlefields and back in a minibus with air-conditioning.
Visit the main sites of the Somme battles, including the Villers-Bretonneux battlefields, Pozières battlefield, and the Lochnagar Crater.
Pay homage to the soldiers who lost their lives at the Australian Memorial, the Thiepval memorial and the Beaumont-Hamel Newfoundland Memorial.
Travel from Giverny to Paris by luxury air-conditioned coach on this Half-day excursion.
Enter into the realm of renowned Impressionist painter Claude Monet, with an expert guide. - Journey through the gorgeous Japanese Water Garden and Clos Normand Garden.
Discover the home where Monet lived for more than 40years and studio where he created some of his most famous works.