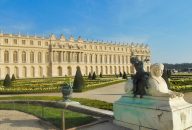 Meet your hostess who will escort you to your easy transfer to the Palace of Versailles, where you will meet your guide, who will accompany you throughout the tour.
Wander into the magnificent Grand Apartments as your professional guide demystifies some of the Palace's most enticing secrets.
Visit the stunning Hall of Mirrors - a corridor filled with 357 mirrors that majestically reflect the gardens through arched windows.
Avoid long queues at the exquisite Palace of Versailles, one of the most extraordinary achievements in 17th-century European art, with exclusive skip-the-line escorted access with a host.
Enjoy stress-free round-trip travel from Paris to Versailles, either in a comfortable, air-conditioned coach or in a fast, cost-effective train, according to your preference.
Explore the several ornate rooms of the palace like the Hall of Mirrors that features 357 mirrors, its halls of French masterpieces and much more with the help of your audioguide.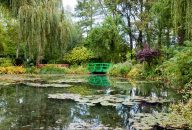 Enjoy a guided tour of the lush gardens at Giverny, including the Clos Normand Flower Garden and the Japanese Water Garden.
Visit Monet's studio and house.
Get priority entrance to Versailles and tour of the Hall of Mirrors and the Royal Apartments with an expert guide.