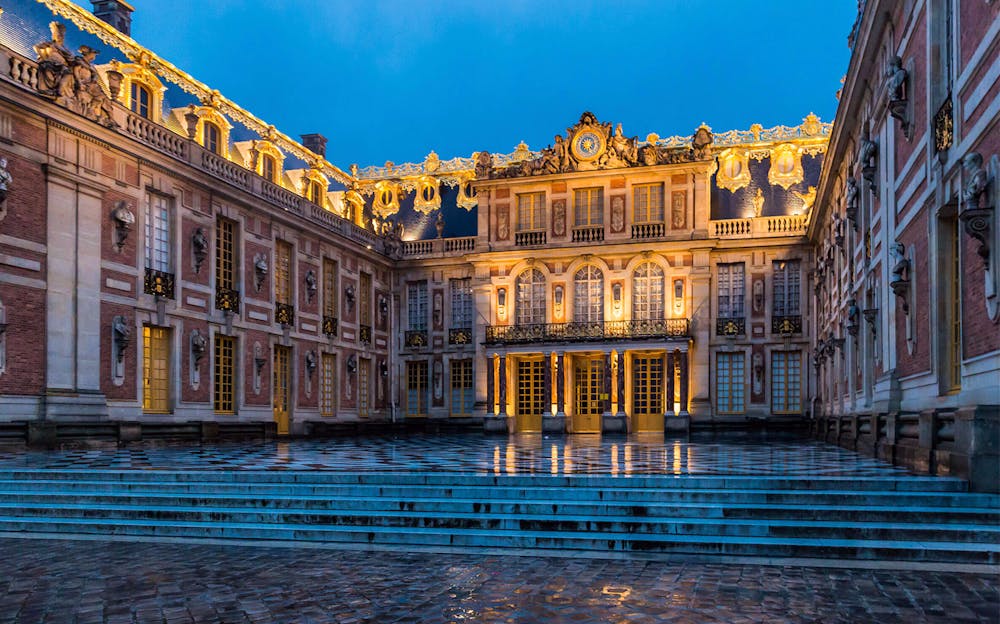 Versailles Skip The Line Tour with Audioguide
Adult
£
38.76
Child
£
30.15
Highlights
Avoid long queues with exclusive skip-the-line access and make the most of your time at Versailles.
Enjoy convenient ticket pickup just a few minutes walk from the Palace of Versailles.
From King Louis XIV to Marie Antoinette, get a glimpse into the lives of the French monarchy's most influential figures.
See the ornate King's State Apartments and the glittering Hall of Mirrors at the Palace.
Take a stroll in the beautiful French gardens and admire the exquisite Versailles fountains.
Your Experience
Make the Most of Your Versailles Skip the Line Tour with Your Priority Access Pass
With your Priority Access pass, avoid the long queues and make the most of your time in Versailles. While purchasing tickets on-site requires you to queue in two lines, the ticket box office and the entry line, your skip the line pass allows you to bypass both.
The Ornate State Apartments and the Glittering Hall of Mirrors
Begin your visit by exploring the ornate King's State Apartments. Learn about the French monarchy and peek into the private lives of the infamous King Louis XIV and Marie Antoinette. Next, make your way to the glittering Hall of Mirrors. Designed to protect the ornate walls and ceilings from smoke, the hall's 357 mirrors were strategically placed to reflect the light of candles. With just a few flames, the reflection from so many mirrors was enough to light up the whole hall!
Take a Stroll in the French Gardens and see the Exquisite Versailles Fountains
After admiring the inside of the Palace, head outdoors and take in the grandeur of the estate's impressive architecture. Stroll along the cobblestone grounds, through the beautiful French gardens, and pass by the gorgeous Versailles fountains. At the Carrosses Gallery, travel back in time as you explore carriages, coaches, sculptures and other artifacts left behind by the French Monarch.
For tips on how to navigate the palace, make the most of your time, and choose the best experience, refer to our Palace of Versailles tours and tickets collection.
In addition to the Castle, explore the two Trianons and get a peek into the Queen's world with our Versailles skip-the-line VIP Entry ticket.
If you'd like to maximize your time at the palace of Versailles and get a more in depth Castle experience, check out the Versailles Priority Access Guided Tour- 75 Minutes Classic ticket.
Includes
Priority Access to the Palace of Versailles.
Audioguide.
Access to the Castle (Royal Apartments + Hall of Mirrors).
Access to the Gardens and Fountains, including the days of Musical Fountain and Garden shows.
Access to The Park.
Access to The Carrosses Gallery.
Exclusive Headout Versailles Palace Visitor's Guide
Excludes
Live Guide.
Access to Marie-Antoinette's Estate, the Trianon.
Transportation from/to Paris.