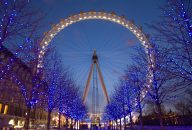 Enjoy priority access to the iconic Coca-Cola London Eye with these fast-track tickets.
These tickets allow you to skip the ticket queue and head straight to the security making it the fastest way to experience a ride.
The 30-minute tour will include one complete rotation and offers iconic 360-degree views of the capital.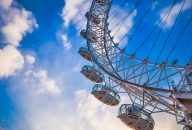 Enjoy a 30-minute ride on the Coca-Cola London Eye, the British capital's iconic ferris wheel and the tallest in Europe.
Lose yourself in the picturesque views of London and marvel at the iconic river Thames that flows through the city.
Get a bird's-eye-view of the city and spot famous London landmarks such as the Buckingham Palace, the Houses of Parliament, and Big Ben.